Revenge Of The Ninja

Original Motion Picture Soundtrack by Robert J. Walsh



Varčse Sarabande presents the next release in our "We Hear You" series, Revenge Of The Ninja: Enhanced Edition. One of our most requested releases, this is available for the first time on CD. Produced and assembled by composer Robert J. Walsh, Revenge Of The Ninja: Enhanced Edition contains 18 cues from the original score which were transferred from tape. For the Enhanced portion of the CD, Walsh used a new analog transfer and a tempo map to bring an electronically updated, lush power to his favorite cues while enhancing the electronic music's orchestral quality.

Revenge Of The Ninja is the second film in Cannon's "Ninja Trilogy" (Enter The Ninja & Ninja III: The Domination). After his family is killed in Japan by Ninjas, Cho (Sho Kosugi) and his son Kane (Kane Kosugi) come to America to start a new life. Cho opens a doll shop but is unwittingly importing drugs in the dolls. When he finds out that his friend has betrayed him, Cho must prepare for the ultimate battle. Revenge Of The Ninja remains to this day one of Cannon Pictures best loved films.

Limited Edition of 1,000 copies at: https://www.varesesarabande.com/products/revenge-of-the-ninja-we-hear-you-series
The awesome American Ninja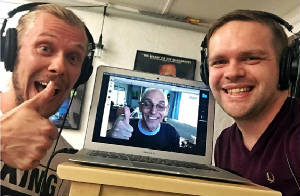 I was interviewed by Tage Rönnqvist and Jocke Levälampi from Helsinki, Finland for the 85-95 podcast
The 85-95 podcast that discuss one movie per episode, this time it was about
American Ninja
. We did it through Skype talking about the movie and when we finished they toke this photo. Here is a translation of the Finish text attached to the photo.
We have now released our latest pod episode, this one is about the awesome American Ninja, and we have a very special guest with us. Mr.Firstenberg, the director of the film, such a lovely champ. After the interview we took the liberty to take a selfie with him, look how happy we are!
(More photos and stories at www.facebook.com/sfirsten feel free to share and circulate)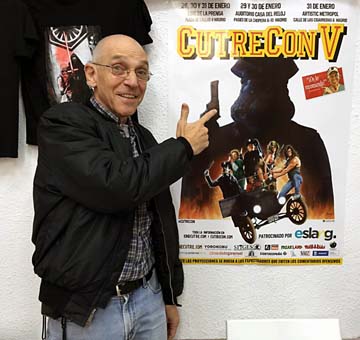 I just came back from Madrid Spain where I was a guest of the CUTRECON international film festival.
CUTRECON is a 4 day film festival celebrating the so called "good - bad movies" the "best" of the worst in world cinema. They screen the most hilariously ridiculous flicks ever created, horror, sci-fi, action, and so on. With an enthusiastic dedicated fan base this festival is the most fun film festival one can imagine, also the funniest. There is more laughter during the screenings of these flicks than in any film festival even if those dedicated to comedy only.
Every entry in the festival program can easily rival any good midnight screening of "The Rocky Horror Picture Show". The loyal audience arriving to the screenings is dressed up and equipped with all kinds of noise making paraphernalia; they go totally wild shouting, screaming and hooting in response to any irrational, ridiculous, or bizarre occurrence on the screen. The reactions, comments, and advice thrown at the characters on the screen are so loud and rowdy that it totally drowns the movie's dialogue. But it doesn't matter, since most of the time the lines are so ridiculous or cheesy or both, that it does not make sense anyway.
The word CUTRE in Spanish, which is part of the festival's name (CutreCon), is a bit hard to translate but in general terms it means "bad in a good way" or "trashy within a humorous context"; it can also equate with loud and vulgar but as a tongue-in-cheek gesture. This year the festival offered screenings of movies such as Turbo Kid, Psycho Cop and Psycho Cop returns, Terminator Fury (from Bollywood India), Who Killed Capitan Alex (from Wakaliwood Uganda), The Search for Weng Weng, Samurai cop 1 and 2, Scanner cop2 and also the offbeat Ninja III: the Domination that I directed 30 years ago.
This is indeed the spirit of the entire festival except for some additional side events with a different tone; for instance the "Documentrash" section featuring documentaries dealing with cult movies such as the soon to be released "Room full of Spoons" (director Rick Harper) that examines the phenomena of the cult movie "The Room" or the "Meet and Greet" section that gives the fans a chance to meet the guests of the festival and participate in a panel discussing the B-Movies phenomenon with the guests and experts in various aspects of low budget productions. This year's guests were Mathew Karedas (Samurai Cop himself), Alan Hofmanis (from Wakaliwood Uganda), Rick Harper, and me (Sam Firstenberg)
All in all my participation in the CUTRECON festival was an exhilarating experience and I want to use this opportunity to thank the organizers Carlos Palencia, Pedro Merida, and Paco Fox for inviting me and giving me the opportunely to participate in this B-Movie celebration, and all the other volunteers that helped in running the events and making sure my stay in Madrid was such a pleasant experience. Most rewarding for me was the chance to meet so many fans that remember, admire, and still enjoy the movies I directed years ago, some of them remarkably young. I had a chance to answer questions, autograph posters, shake hands, and be included in many photos with throngs of loyal fans. It tickled me to meet young couple about to get married, admitting to be avid fans of the American Ninja franchise since early childhood. They arrived with a few original vintage posters for me to sign and as we were taking photos together they told me that they already decided to name their two firstborns after the two main characters of American Ninja; Joe (Armstrong) and Curtis (Jackson). Now that's real hard core fans and a testament to the power of movies, low budget included.
B-Movies are neither forgotten nor vanishing on the sideline of cinema history. True, they are not mainstream Hollywood, but they are well and alive and here to stay.
Guests

SAM FIRSTENBERG (Jess Franco Award 2016)
Sam Firstenberg, a film director with the legendary Cannon Films production company - specializing in low budget action adventures films, will receive the CutreCon V Film Festival, Jess Franco 2016 award, for "his outstanding work of popularizing the cinema of ninja films". The filmmaker will personally collect the award, in a ceremony that will take place on Saturday, January 30 at 10:30am in the historical Cine de la Prensa de Madrid (Plaza de Callao, 4) within which two of his most emblematic films will be screened. The ceremony, which will also include a short discussion with the filmmaker, is called "Applehead Team Creations-Cannon Films Session" and it will include two films directed by Firstenberg, related to the ninja genre.





It is the third time that the CutreCon Film Festivalgrants the Jess Franco award that in 2014 was granted to Domingo Lopez, and the previous year to Ramón Saldías, the first Spanish martial arts film director. Now, Jess Franco award will be given deservedly to Firstenberg, an icon of action adventures cinema of the 80's, whose films are part of popular culture and are revered by fans of the B-Movies genre... Among his films there are some influential classics (for one reason or another) such as American Ninja and its sequel number 2, as well as Breakdance 2: Electric Boogaloo, Revenge of the ninja and Delta Force 3.

The Applehead Team Creations-Cannon Films session is sponsored by the independent publishing house Applehead Team Creations, publishers of "Cannon Films", the book about the production company that become a kind of Bible for fans of this type of films, and now published its sequel, "More Cannon". Both books will be on sale during the festival by the exhibitors.

ABOUT SAM FIRSTENBERG

Born in Poland in 1950, he spent his childhood and adolescence years in Jerusalem, a city that he left to pursue studies in cinematography at the Loyola Marymount University in Los Angeles. Next came training works in different movies with Cannon Films (responsible for titles such as Delta Force, Cobra, Bloody Contact and the Masters of the Universe) as an assistant director and second unit director, to make the leap to become director in 1983 with the release of his One More Chance, starring Kirstie Alley, which earned him a nomination and silver plaque at the Chicago International Film Festival and Locarno Film Festival, in addition to receiving lots of praise by critics. That same year he made his first job as director for Cannon Films, Revenge of the Ninja, the sequel to Enter the Ninja, the film that introduced the genre of ninja movies to the west, until then unknown to the public at large.

From that moment on, the career of Sam Firstenberg is linked to Cannon Films and vice versa: the director became the star director of the company, for which he worked in iconic films such as the American Ninja and its sequel (cult films with millions of admirers across the world), Delta Force 3 and Breakdance 2: Electric Boogaloo (1984), sequel to Breakdancing, a blockbuster movie that the Cannon group wanted to duplicate so quickly that it come out just few months after the first one and is so bad that since then its tagline "Electric Boogaloo" served in the United States to describe all those sequels that should not have never existed.
Firstenberg has directed in total 22 films covering all types of genres ranging from action to musical, as well as drama and comedy, where he has worked with some of the most well-known actors of the era such as Michael Dudikoff, Eric Roberts, Marc Dacascos, Grace Jones, Richard Kien, Sean Young, Jeff Fahey, John Rhys-Davies, Soleil Moon Frye and Nick Cassavettes among others.

Highlights in his filmography include American Ninja (1985), American Ninja 2 (1987), Revenge of the Ninja (1983), Ninja III: The Domination (1984), Avenging Force (1986), Riverbend (1989), Delta Force 3: The Killing Game (1991) Cyborg Cop (1993) and its sequel in 1994. His latest film for the big screen goes back to 2002 with Quicksand, in which he work again with the actor, Michael Dudikoff.

With such a career highlighted by the Ninja films, coupled with the admiration of the public, the organizers of CutreCon Film Festival, could not pass up the opportunity to recognize the work of Sam Firstenberg not only in the field of low budget and B-Movies arena, but in the world of cinema in general, for his contribution to both has not been sufficiently rewarded. CutreCon thus puts their bit, granting Firstenberg its highest award: the Jess Franco 2016
17th Bratislava International Film Festival

November 12-17, 2015Top of Form

Films > Ninja III: The Domination

Ninja III: The Domination

Ninja III: The Domination

Although she appeared in many films produced by Cannon Films, Lucinda Dickey became known especially as a jazz dancer who discovered the hip-hop subculture and breakdance. Casting her as the main character in the third part of the money-making ninja series therefore seemed an odd choice. But then again, very little made sense about Ninja III: The Domination. Dickey plays a phone line fitter who is also an aerobics instructor. A chance brings her to the path of an evil ninja who soon dies in a wild combat against the police; however, his spirit takes hold of her through the magic sword and is able to survive confined in a young female body. Completely free of any signs of logic or reality, this grotesque picture piles up and profits from the popular phenomena of the period such as neon-colour fashion, aerobics and shamelessly stealing from smash hits such as Flashdance, Poltergeist or The Exorcist, which nobody sane would ever dream of combining. This is a titbit for aficionados of movie oddities.

Schedule: 13.11.2015 23:30 Gorila.sk Urban Space
About the Director:

Sam Firstenberg

Sam Firstenberg (1950, Wałbrzych, Poland) grew up in Jerusalem. Before he completed formal education as a filmmaker at Loyola Marymount University in Los Angeles, he had directed 22 theatrical feature films. At Cannon Films, he worked his way up from a production assistant and director's assistant to one of the label's principal directors. He became known for directing low-budget B-films of virtually all genres, ranging from comedies and musicals to action films and thril- lers to horrors and sci-fi. The first two parts of the American Ninja series and the sequel Breaking 2: Electric Boogaloo that he directed, rank among the studio's biggest smash hits.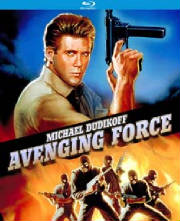 Avenging Force Blu-ray December 9th
U.S. distributors Kino Lorber have confirmed that they will bring to Blu-ray Sam Firstenberg's action thriller
Avenging Force
a.k.a.
Night Hunter
(1986), starring Michael Dudikoff, Steve James, James Booth, William Wallace, Marc Alaimo, and John P. Ryan. The release is scheduled to arrive on the market on December 9th.
Synopsis: Hunter is an ex-secret service agent trying to protect his best friend from a political terrorist group. When they kidnap his sister he is forced to stalk the remote swamplands of Louisiana on a manhunt, struggling for survival and revenge.
Special Features:
Newly Remastered in High Definition
Audio Commentary by Star Michael Dudikoff and Director Sam Firstenberg
Intro by Director Sam Firstenberg
On-camera interview with Star Michael Dudikoff
Original Theatrical Trailer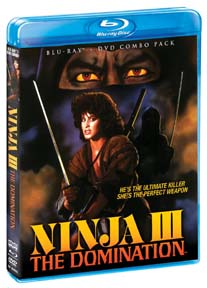 NINJA III: THE DOMINATION Blu-ray
SCREAM FACTORY™ is invites viewers to dive into Cannon Film's 1984 exploitation classic NINJA III: THE DOMINATION Blu-ray™ + DVD Combo Pack on June 11, 2013. Combining elements of martial arts, The Exorcist (and even Flashdance of all things), this wild, bizarre and totally entertaining fan-favorite has never been on DVD or Blu-ray or in a widescreen presentation until now.
NINJA III: THE DOMINATION Synopsis:
Aerobic instructor Christie Ryder (Lucinda Dickey – Breakin', Breakin' 2: Electric Boogaloo) becomes possessed by the spirit of an evil ninja when she comes to his aid after being shot down. Dominated by the killer's vicious and relentless rage, she sets out to brutally attack his enemies. Her boyfriend, confused by Christie's changing personality and afraid that he might be her next victim, enlists the aid of Yamada (Shô Kosugi – Enter the Ninja, Revenge of the Ninja), the quintessential martial arts hero. In a life-threatening exorcism and ultimate fight to the death, Yamada proves that he is Christie's only chance for survival. For only a ninja can kill another ninja!
CINEMA SOUTH FILM FESTIVAL SDEROT, JUNE 10 - 14, 2012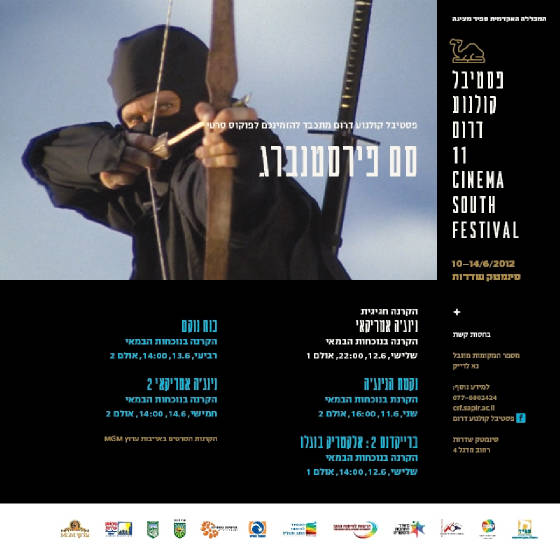 Focus on the American Director Sam Firstenberg
Sam Firstenberg was born in Poland in 1950. He grew up in Jerusalem and after completing his army service, he travelled to the USA to study Cinema. As a young director, Firstenberg linked up with the Cannon production company owned by Menachem Golan and Yoram Globus and made successful cult films such as Revenge of the Ninja, Breakin' 2: Electric Boogaloo, American Ninja and others. Firstenberg's films are the embodiment of fascinating times, during which Israeli filmmakers created Hollywood feature films through the "Cannon" Israeli - American production house. The films were successful alternatives to the giant budget Hollywood films so popular at the time and they were the breeding ground for Hollywood stars such as Michael Dudikoff, Sho Kosugi, Chuck Norris and others. Firstenberg has story telling in his soul and in his films he presents the naďve using fascinating, aestheti , tools exhibiting the struggle between cinematic approaches and ideas. The drama in his films is seen through elegantly set up frames of the urban landscape and woodland scenes, constituting the background for
continuing action sequences. Action scenes in his films combine western and eastern approaches and by themselves, tell stories with a beginning, middle and end. It is difficult to consider the films of Quentin Tarantino, Robert Rodriguez and many others, without mentioning Firstenberg's name. Sam Firstenberg made a highly significant contribution to the martial arts film genre and his films are a vital link in the chain that began with Bruce Lee and continued on through to the Grindhouse movies in the 2000s.

Screening of these films has been made possible by the generosity of the MGM channel

An interview with Sam Firstenberg and articles discussing his work will be published in The Cinema South Anthology


Viral Short Ninja Films Competition
As part of the focus on Sam Firstenberg and as a tribute to the genre of ninja films, The Cinema South Festival called on filmmakers to let their imaginations run wild and release their childhood fantasies. Filmmakers from all over the country participated in the Viral Ninja Film competition on the Flix website.